1. You've taken to using it as a coat rack.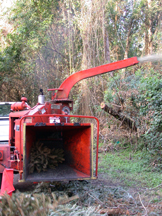 2. The bird that got into your house stayed - and nested.
3. Visitors ask how you'll be decorating it for the spring holiday.
4. It's sprouted roots and started growing again.
5. Squirrels gather at your window and look in longingly at it.
6. You can no longer see the carpet through the layers of dried needles.
7. You've decided just to go ahead and leave it up for next year.
Is there anything sadder than a holiday tree that's still standing around
in someone's living room well into the new year? If the holidays are long gone but your tree isn't, it's time to chip in and donate your used evergreen to our annual
Chip-a-Tree
initiative.
Last year Broward County Parks recycled more than 9,000 trees, representing more than a hundred tons of material that would otherwise have gone to landfills, and this year your tree can join those recyclable thousands. The free program encourages Broward County residents to remove all decorations from their holiday trees (no decorated trees will be accepted), then bring the trees to a participating park, where they are chipped and used for landscaping throughout the county park system. There is a limit of two trees per vehicle, artificial trees are not accepted, and no commercial vehicles or garbage trucks are allowed.
This season's program runs from Thursday, December 26, 2013, through Monday, January 20, 2014 (Martin Luther King Day), giving you plenty of time to take advantage of those after-the-holidays sales before hauling your tree to a park. And remember, the regular weekend and holiday gate entrance fee will
NOT
be in effect for recyclers, so there's no excuse not to do the right thing. Hours vary; call the park of your choice for details.
See
http://www.broward.org/PARKS/THINGSTODO/Pages/Chip-a-TreeProgram.aspx
for location information.